Disneyland Paris
Disneyland Paris
Imagine a land where the wonderful world of Disney comes alive. Imagine a Disneyland® Park, where make believe is real. And Walt Disney Studios® Park, where the magic of Disney meets the magic of cinema.
Imagine a Disney Village®, where fun and entertainment stay open day and night. Seven Disney® Hotels, where sweet dreams come true in the very heart of the magic. Imagine you are here... In a Resort as big as imagination itself. Welcome to Disneyland® Paris. A holiday destination like no other.
Fast Pass is NOW included in your ticket. You will have to go to the Fast Pass Terminal and will receive a return time. (You may only have one fast pass allocated at one time). Please note that during peak times there may be limited availability for Fast Pass time slots at popular attractions.
Special Offer: FREE meal vouchers with every booking*
Includes a FREE 15% discount voucher for Planet Hollywood and a FREE 20% discount voucher for Earl of Sandwich! ALSO a FREE 15% discount voucher on Planet Hollywood merchandise! These can be redeemed at the Disney Village, which is located between the entrances to the two Disneyland parks.
*Planet Hollywood vouchers are applicable to bookings for visits until December 30th 2019 only. Earl of Sandwich voucher entitles the bearer to a €3 credit (20% discount) off a total minimum spend of €15 on food and drinks for travel up to 31st March 2020 excluding 31st October and 25th December. Planet Hollywood voucher entitles the bearer to a 15% discount off food and soft drinks ordered from the a la carte menu. Valid for a maximum of 8 persons dining together. Not vaild with any other offers (e.g. kids Meal Deal) or discounts. Planet Hollywood merchandise voucher entitles the bearer to 15% off any purchase of merchandise excluding sale items at Planet Hollywood Disneyland Paris.
To view our 1 Day ticket availability calendar, please click here >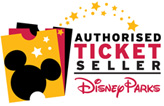 *Ratatouille, Monsters, Inc., Toy Story ©Disney/Pixar
Toy Story Playland is inspired by Disney•Pixar's Toy Story
©Disney
DISNEYLAND® PARK
Disneyland® Park at Disneyland® Paris, is laid out in 5 exciting lands - Main Street USA®, Frontierland, Adventureland, Fantasyland and Discoveryland. Each land includes a magical mix of attractions, restaurants and shops.
In a magical kingdom not so far away, classic Disney heroes and heroines live once upon a time in fairytales that are, happily, never ending.
The story begins in the good ol' days of the early 1900s in Main Street, U.S.A®. Then, turn the page and saddle up for some serious fun in Frontierland -Yee Ha! Set sail for an Adventureland of swashbuckling thrills. Take flight into Fantasyland where Disney princes and princesses are real. Or charter a course into the past and live extraordinary visions of the future in Discoveryland! Welcome to the storybook world of Disneyland® Park. Where enchantment lives.
WALT DISNEY STUDIOS® PARK
Right next door, and included with our Disneyland® Paris tickets, is the Walt Disney Studios® Park. There are 4 zones to explore - Backlot, Front Lot, Toon Studio and Production Courtyard - each featuring spectacular thrilling attractions!
DISNEY VILLAGE®
Disney Village® is the shopping, dining, cinema, dancing and live entertainment complex at Disneyland® Paris that never, ever sleeps! Here you can dance the night away, enjoy 3D movies at the IMAX cinema and take in Buffalo Bill's Wild West Show.
©Disney
ACCESSIBILITY
Guests with limited mobility are well catered for at Disneyland® Paris. Most rides and attractions offer easy accessibility or special access; there is wheelchair hire for a small fee (subject to availability)and a limited number of parking spaces available for guests with disabilities.
For a full guide on the park's accessibility, please click here.
OTHER SERVICES AT DISNEYLAND® PARIS
You'll find everything you need at Disneyland® Paris, with plenty of rest rooms, first aid centres, cash machines, currency exchanges and baby changing facilities. You can also hire pushchairs, leave your pet at the kennel service and make use of the excellent free shopping service allowing you to shop till you drop and collect all purchases at the end of the day. Parking at Disneyland Paris is plentiful and charged by the day.
HEIGHT RESTRICTIONS
For safety reasons, height restrictions apply on some rides and attractions at Disneyland® Paris.
FAST PASS®
Why wait in line? Make even more out of your day in Disneyland® Park and Walt Disney Studios® Park with FASTPASS®, a free, time-saving service that shortens your wait at some of the most popular attractions.
RIDE ALTERATIONS
To stay up-to-date with closures and ride alterations, please click here on a regular basis for a full list.
BOOKING INFORMATION
Please note that the face value on the Disneyland Paris e-ticket is pre any booking fees and may not reflect the actual price paid.
©Disney
Magic all year round
Season of the Force (Jan- March)
Fulfill your Star Wars destiny and blast off to a galaxy far, far away, where breathtaking experiences immerse you in the most epic of space sagas.
St David's Welsh Weekend (March)
Mickey and Minnie get into the spirit in their traditional Welsh costumes for food, drinks and a street market.
St Patrick's Day (March)
Dance and sing to traditional Celtic music with your Disney friends. Sleeping Beauty Castle comes alive with colour in an amazing fireworks spectacular.
Disney's Magical Fireworks & Bonfire (November)
Ooh and aah as the sky above Lake Disney® is illuminated with fireworks and special effects.
Disney's Enchanted Christmas (November–January)
Be quick to unwrap this early Christmas gift where a sled- load of festive magic brings a flurry of enchantment your family will never forget!
Admission:
This ticket gives you admission to 4 days at Disneyland® Park and Walt Disney Studios® Park. You can leave and enter the parks as many times as you like during one day. Please keep your ticket on you for readmittance.
Included:
Your 4 Days, 2 Parks ticket allows you unlimited access to attractions, shows and parades (except for the Shooting Gallery and Video Games Arcade in Disneyland® Park, and special events or evenings, such as Disney's Halloween festival).
Booking Conditions: This ticket is valid for 4 non consecutive days within a 7 day period after first day of use.
There are NO cancellations or amendments permitted. 100% cancellation charges will appy from the time of booking.
Please Note:
- All shows, attractions, park areas, entertainment, FASTPASS®, shops and restaurants may be closed, modified, delayed or cancelled without prior notice.
- Admission is subject to capacity on the day of visit.
©